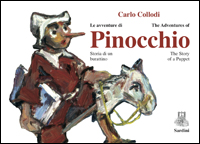 Carlo Collodi
Le avventure di Pinocchio - The Adventures of Pinocchio
A cura di Davide Sardini, con un saggio introduttivo di Pietro Gibellini e le illustrazioni di Tancredi Muchetti
Collana: Grandi Classici
form. cm 30 x 21 - pp. 256
Anno di pubblicazione: 2012
ISBN 978-88-7506-200-2
Prezzo: euro 38,00
Disponibilità: Disponibile. Acquista NUOVO: Acquista COME NUOVO:

[ITA] Il classico testo collodiano in edizione prestigiosa, con traduzione inglese a fronte di Mary Alice Murray, un saggio introduttivo di Pietro Gibellini e le illustrazioni a colori di Tancredi Muchetti.

MARY ALICE MURRAY per prima tradusse Pinocchio in inglese per l'editore londinese Fisher Unwin nel 1892. La sua traduzione, la prima in assoluto, è oggi riconosciuta come la migliore in quanto a vicinanza allo spirito collodiano, perché prossima negli anni alla pubblicazione della prima edizione italiana (1883).

PIETRO GIBELLINI è professore ordinario di letteratura italiana all'Università Ca' Foscari di Venezia.

TANCREDI MUCHETTI, pittore, appartiene ad una famosa famiglia di marionettisti e lui stesso lo è stato dalla nascita fino alla metà degli anni '50.


[ENG] The classic Pinocchio is here presented in a prestigious Italian edition with the English translation on facing pages by Mary Alice Murray, with an introduction by Pietro Gibellini and richly coloured illustrations by Tancredi Muchetti

MARY ALICE MURRAY first translated Pinocchio into English for the London publisher Fisher Unwin in 1892. Her translation is the very first. It is also recognized as the best since it is close to Collodi's ideas and because it appeared soon after the publishing of the first Italian edition (1883).

PIETRO GIBELLINI is full professor of Italian Literature at Università Ca' Foscari in Venice.

TANCREDI MUCHETTI is an Italian painter. He belongs to a famous family of puppeteers and was a puppeteer himself, until the mid-1950s.
home | Collana / Section | Indice / Index | Cerca / Search
Informazioni per l'ordinazione | Ordering info


©2022 Sardini Editrice srl